Below you will find 40 film logo design inspiration that would easily accompany any corner of the movie / film business sector like film makers, online movies websites, film reviews website, film production company, film studio, creative film an other related film business. Hope this will inspire you. Enjoy..
---
See also:
This logo can be used in many ways, such as film makers, for online movies websites, film reviews website ect.
This brand suitable for:Film Company, Film Awards, Film Editing Studio,Production Movie House, Filmmaker, Digital online movie rentals
Great logo for any wedding event/film production company.
Striking logo, great for any serious film production company.
"Cofilm" a brand design for Film, Entertainment & media. Meaning : Coffee cup in shape of film reel, simple and creative approach for film industry.
A great logo that would easily accompany any corner of the movie / film business sector.
This logo suitable for …business of film, film maker, film studio, creative film…
Perfect fo anything related to film industry (reviews, etc.)
Productions/film logo
A film company oriented logo.
Nice Logo for Film Distributor/Producer
This logo is suitable for a film company. It also can be used as an icon.
Film town / Movie City / Town Cinema is designed especially for multimedia and film producing companies and/or town cinemas. This colorful, hybrid logo will perfectly represent your multimedia company.
Ideal branding for a film, video, entertainment or media company. Could be modified for use in anything having to do with movies. A play on the word helium, using the movie reel as the lift of a hot air baloon.
Great logo for anything related to film, for web site (movie download, archive, etc).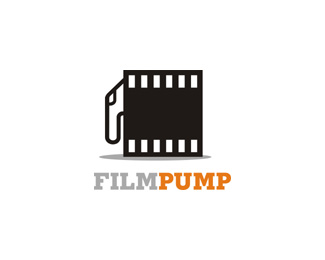 Logo for film company.
this brand is suitable for any film company related with media, films, productions studios.
Barzona is a breed of cattle. The snout is an abstract film reel, the tongue a filmstrip. A fun, hip, humorous brand for a film/media related company or entity.
Can be used for any studio or related companies ,although it is not just bound to it. It can be used for many other businesses.
Logo is best suited for movie and production industry, very easy to animate for eg. intro or banner ads.
Edgy business, film, design or motion related.
This logo is suitable for a film, video or entertainment company/project.
Its so simple, its scary.
It could be used for short film festivals and for short film web sites
A logo suited for movie/entertainment industry, communications, business and more.
A unique combination of ideas to form a wonderful, fun icon great for a media or film company.
Represents a vibrant film. Suitable for production companies.
Twister pictures can be new name in entertainment industry. This effective name and logo is right stuff for commercial and documentary movies and production.
Slowmotion logo is combination of movie reel and snail and it can be used for entertainment $ media industry.
Movies that do not make sense. It may also be other better use.
Combination of reel to reel projector and a cow. Could be used for a movie review site, blog about kids movies, or times. A quirky production company.
Locomovie Production is very unique logo for any movie and entertainment related business,simple, eye catching and easy to remember.
A play on the word "Surreal". The mark depicts a mushroom with a trippy movie reel for it's cap. This promises to be an instantly recognizable brand for "the enlightened" media provider.
Snakemovies logo. It is good for Entertainment & Media industry, but it can fit also in Internet & Web. It can be easy adapted for any print material.
Perfect logo for movie internet site.
Simple Design allows for use on just about any type of media. Very clean and clear.