The good old days of the flash video players are gone or at least, we can safely say that Flash video players are definitely experiencing a fall from the grace courtesy the popularity of the HTML5 video players. And there are some good reasons why an increasing number of websites are embracing this new video platform. Flash Video player, despite being highly interactive in nature, is slowing trailing in competition because of the fact that most Smartphones still do not offer any kind of support for flash and that means, if your target audience is mobile users, you have virtually very few options left other than falling back on HTML 5 video player.
However, HTML5 Video player has certain unique features that give it an edge over other competitors in the same niche. For say, HTML5 is now compatible with almost all browsers and that means, no matter what device or browser your targeted audience is using, you are rest assured that you are not going to lose a single one of them because of the compatibility issue.
So, I hope that you are quite convinced that you need to move from other forms of traditional video players to HTML5, but you may not be sure which HTML5 video player is ideal for your website. A small mistake can cost you immensely. So, to make your task simple, here we are going to give a round-up some of the most popular HTML5 video players. But here is my word of cautions; you need to take a grain of salt before putting your trust on them.
Though this video player is not absolutely free, it is a great starting point for newbie who is going to have his first rendezvous with this new interactive platform. Free version is available but it is not for commercial use and lack some premium features and of course the WOW factor is also missing in the free version. There are three different pricing plans to choose from.
The best part of this HTML5 Video player is that the videos get a decent display on almost all devices no matter whether the visitors are browsing on table, Smartphones or desktop devices. You can run it with almost all commonly available audio and video formats and this is certainly cool. Its popularity stems from its easy to use features and extreme simplicity.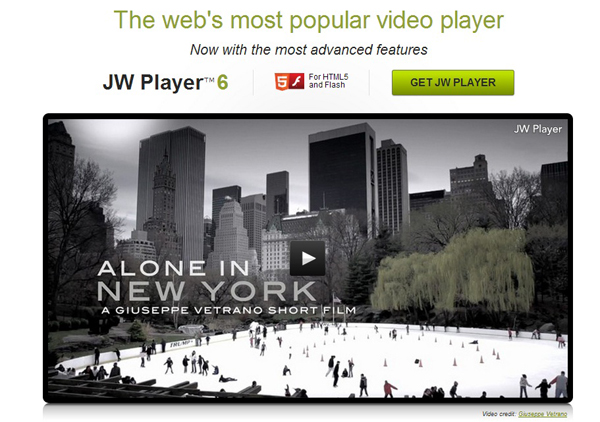 This is an open source HTML5 video player but powerful enough to be treated as an alternative of the paid options available out there. This video player is developed in JavaScript and is good enough to play both traditional videos and flash files. And the best part of this video play is that it is compatible with almost all the major Operating Systems and browsers. So your video will be running smoothly no matter what the device or browse your targeted audience is using.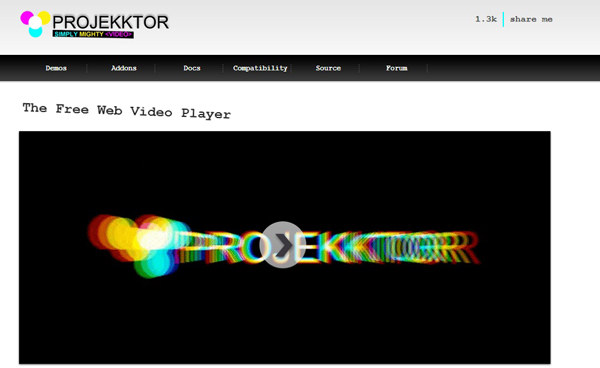 This audio and HTML video player is open source and developed on JavaScript. For non-commercial purpose, this Video player is free. However, for commercial use, you need to loosen your purse string a little bit. And the best part, Leanback Players comes loaded with numerous extensions which are available for free download. Here are few of them – Piwik Tracking extension, HD Button extension, Google Analytics Tracking extension and more. Keyboard can be used for controlling this Video Player which is quite convenient for the users, especially when they are using desktop.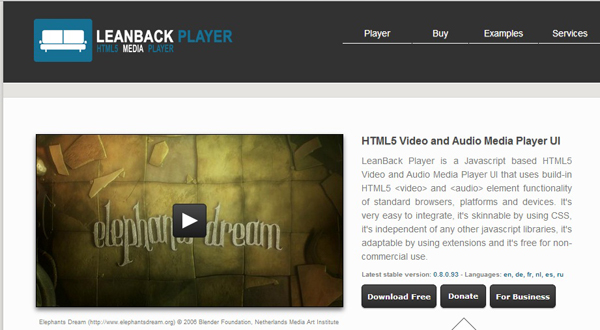 It is one of the few finest HTML video players I have seen in my life that work so precisely and meticulously. This framework though ideal for all devices and browsers, has been developed specifically for latest mobile devices. However, there is a catch to it. You cannot upload video directly to its server. You need to upload it either to your own server or any other Video sharing platform before being able to integrate the video on this video player. You can get all the details about your videos and its interaction with the audience if you wish to integrate Google Analytics code in it.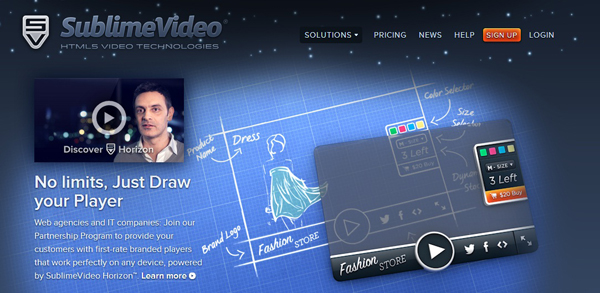 This is one of my favorite HTML5 video players because it lets users to customize the skins to be able to match with theme of your website. However, if you are finding it difficult to customize the skins, do not worry because there are some readymade options available in Kaltura's repository. The biggest advantage of this Video Player is that it offers support for languages other than English and can be easily integrated with other Ad Networks. And did I mention that it is extremely lightweight and easy to use.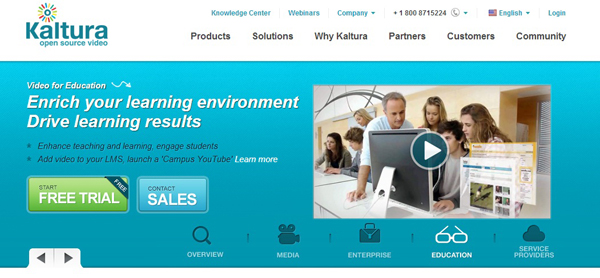 This is a video player that works perfectly with both Flash and HTML5 files and thereby making it one of the most popular HTML Video Players available on Planet Earth. It looks good on conventional desktop devices and even works precisely on any other mobile platforms. This is an ideal video player for online TV channels, ecommerce sites, blogs, websites of myriads of types and more. Social plugins are also available to spice up the experience.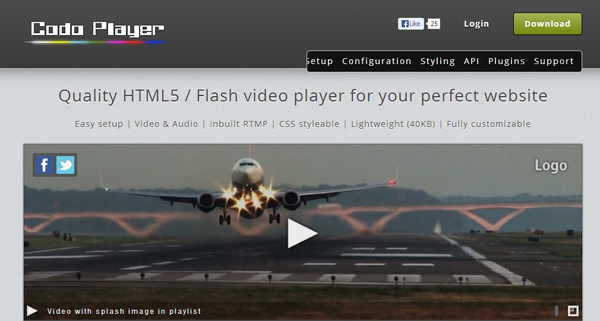 If you are bit concerned about responsiveness of your website, this HTML Video Player is meant for you. This is easy to work with. All you got to do is to download the Video.js source file and then upload that file on your web server and then you are done. To make it look like any other popular video players, you can try any of its skins.