gpEasy is a fast and easy CMS with flat-file Storage. It is a open source CMS written in PHP focused on ease of use with true WYSIWYG editing and flat-file storage. gpEasy no need for MySQL. SQLite isn't used either. Page content and site configuration are all stored in flat files instead of a database making gpEasy portable, easy to install, and fast.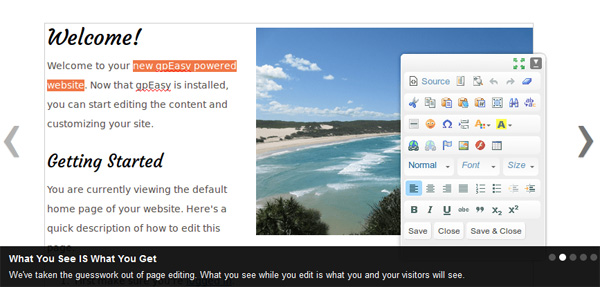 gpEasy's page manager combines content and structure to make managing your site content easier. It come with WYSIWYG editor to edit web page content easily.
Integrated Bootstrap compentents make responsive web development a snap. Manage your images and other uploaded content with a slick interface. You can install themes and plugins from the gpEasy community with the click of a button.
---
Requirements: PHP
Website : http://gpeasy.com/
Download: https://github.com/oyejorge/gpEasy-CMS
Demo: http://gpeasy.com/Demo
---