Churches need to have an effective web presence in order to communicate with members and attenders as well as to attract new visitors. Churches need to have an online presence to let the world know about their presence and the activities they offer. These 30 free and premium church wordpress themes can help out by giving your church an attractive and effective web presence on a shoestring budget.
---
See also:
---
Free Church WordPress Themes
1. Trinity
Trinity is a squeaky clean design aimed at helping churches deliver their content in modern style. Clean lines and prominent typography make Trinity the perfect way to engage church members and future guests with your content.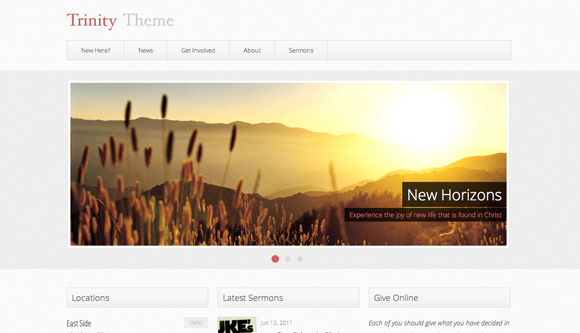 2. Antioch
Antioch is a design suited for any church seeking to appeal to a wide audience.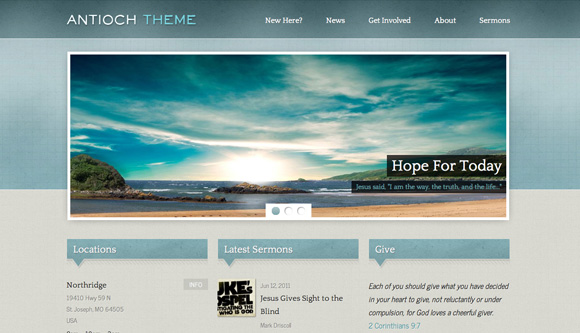 3. Calvary
Calvary is an inviting and established design that helps churches deliver their content in down-to-earth style.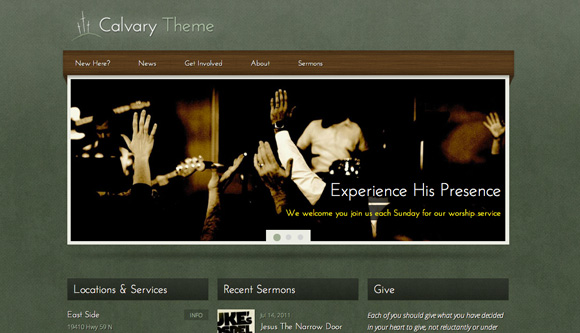 4. Faith
Faith is a Church theme. It is built with features that are specific to a Church such as sections for sermons, events, short messages, service timings, contact details etc.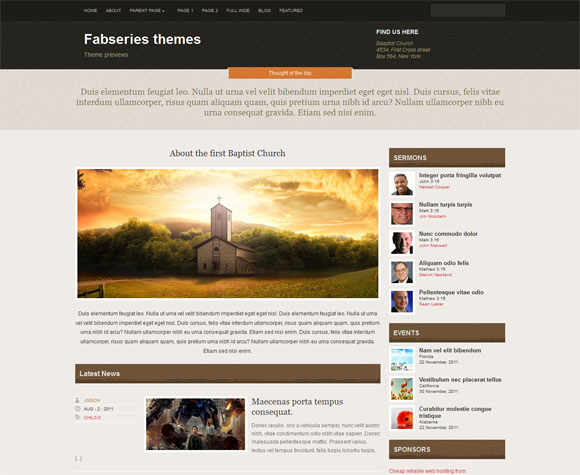 5. Stylish Church WordPress Theme
This free theme can help out by giving your church an attractive and effective web presence on a shoestring budget.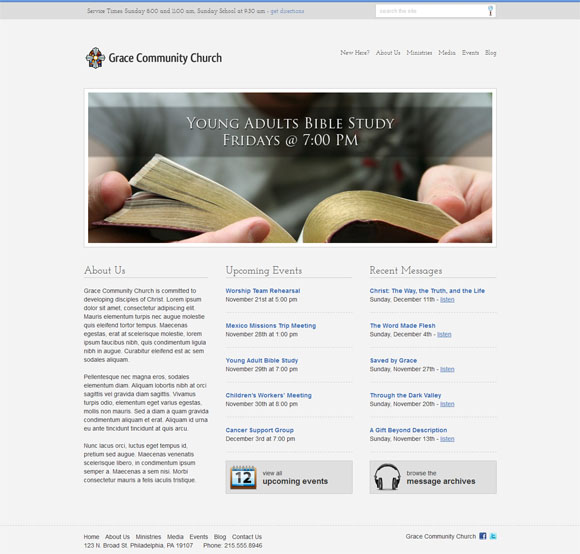 6. Green Grunge
This free WordPress theme was designed with young churches in mind. It features a green textured background and a grunge border around the homepage slideshow.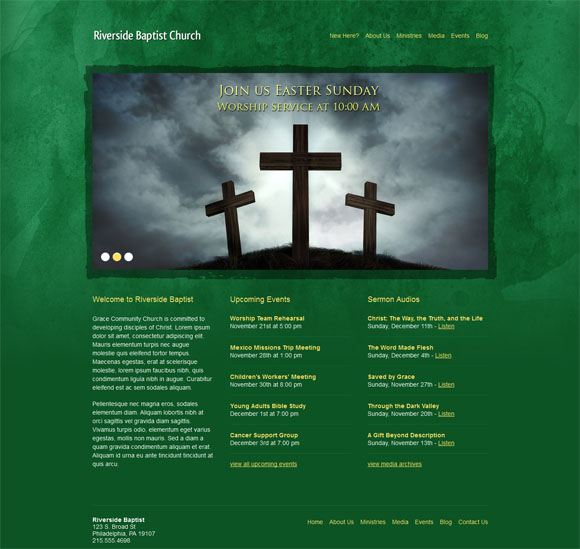 7. Simple Church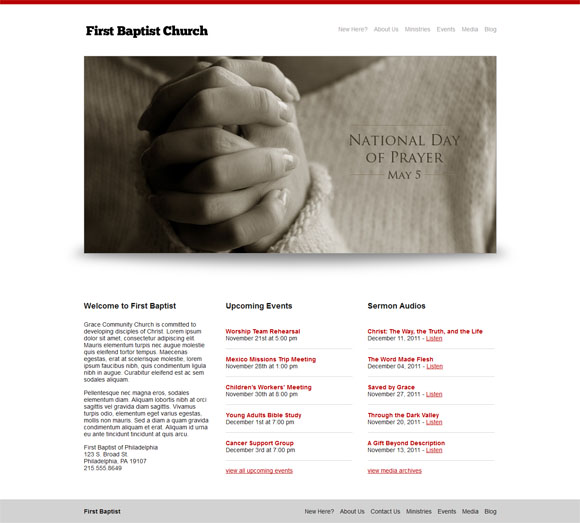 8. Delta Theme
A WordPress theme designed for a church website. Includes 3 different header images.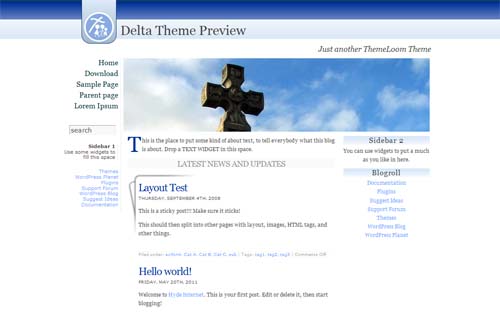 ---
Premium Church WordPress Themes
1. Risen – Responsive Church WordPress Theme ($45)
This church theme for WordPress has the features a church website needs — a mobile-friendly responsive design, sermon archive, photo and video gallery, church events calendar, support for multiple locations, staff profiles and church news.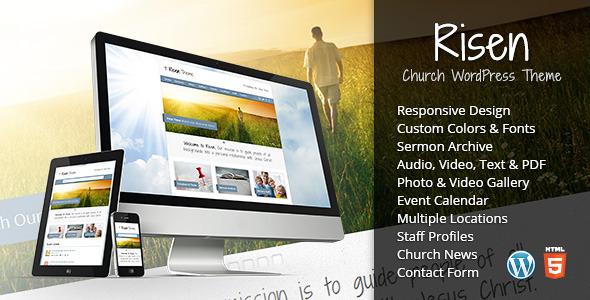 2. Accende ($45)
The Accende WordPress Church Theme is a powerful theme developed especially for church and spiritual websites, but due to the large number of custom features, it can be used as well for Artist Portfolios and even Business Websites.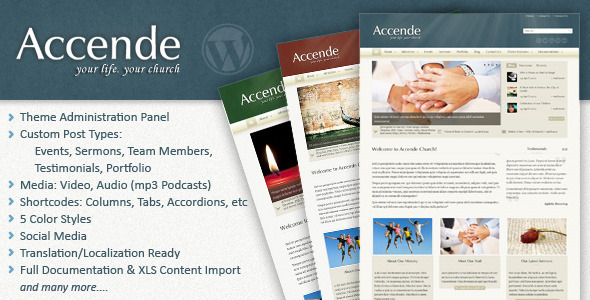 3. Heaven's Corner Church Theme ($45)
Heaven'sCorner, it's a clean and elegant theme, developed mainly to setup Church, NGOs and non-profit orgnizations. Using the color scheme of your choice by using color picker make it elegant and high visual impact experience.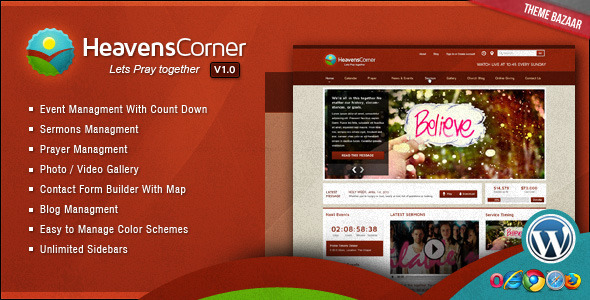 4. Gospel – Premium Responsive WordPress Theme ($45)
Gospel is a premium responsive HTML 5 WordPress Theme created primarily for religious based institutions looking for a super clean, yet warm and customizable solution that is simply feature packed.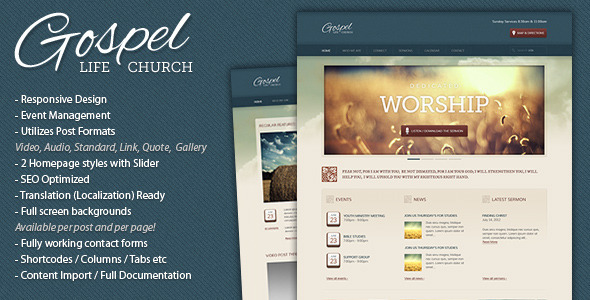 5. Glory – The WordPress Theme for Churches ($45)
Glory is a WordPress theme aimed at making your new church or other non-profit website the best one on the block.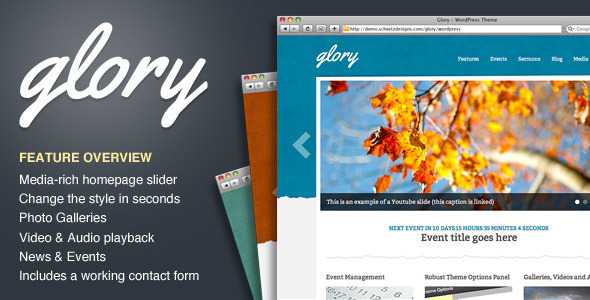 6. Rebirth – The WordPress Theme for Churches ($45)
Rebirth is a Church WordPress Theme aimed at making your new church website the best one on the block.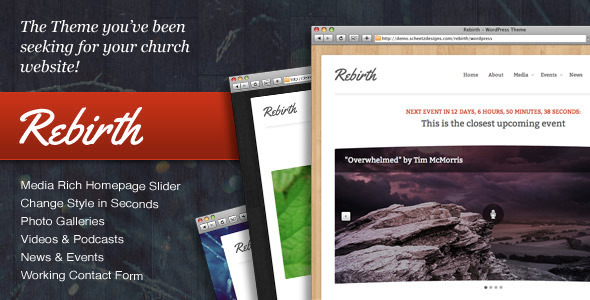 7. Born ($45)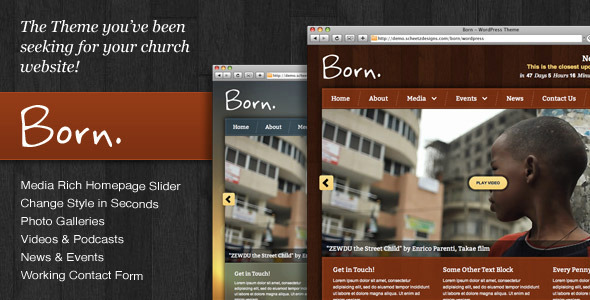 8. WP-Church ($45)
WP-Church is a Premium ChurchTheme built on a highly intelligent framework. WP-Church includes calendars, mp3 players, automatic scripture finders and image galleries custom built. No need to fiddle with plug ins.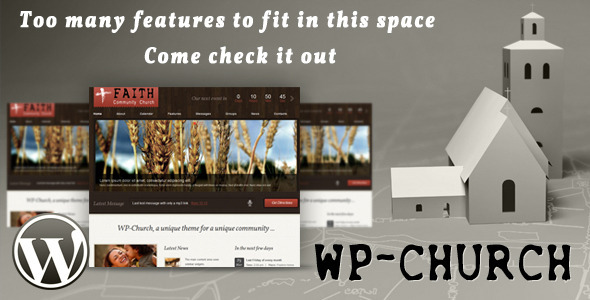 9. Ray Of Light – WordPress Theme For Religious Movements ($40)
Ray Of Light is great looking Religious Movements and Church theme that is also very feature rich and customizable.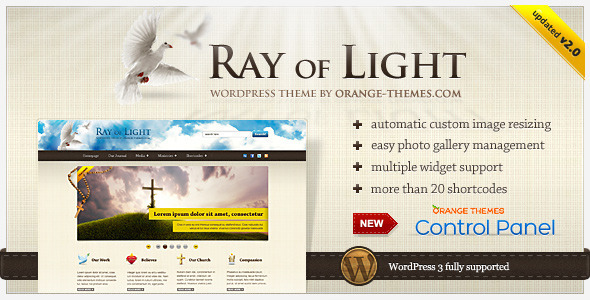 10. Ecclesia ($40)
Ecclesia is a WordPress theme created with church websites in mind. Flexible and easy to use, this theme will help you bring your church website to the next level.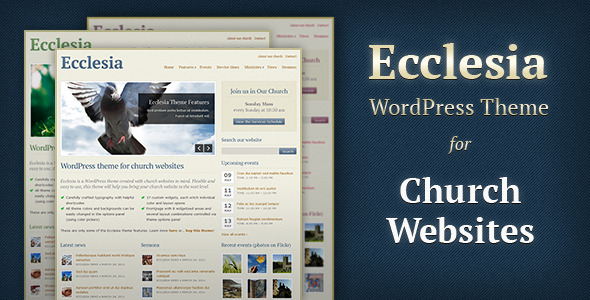 11. GC02 Religious ($35)
This is a spiritual and fancy WordPress template with good Karma – perfect for all types of churches or religions.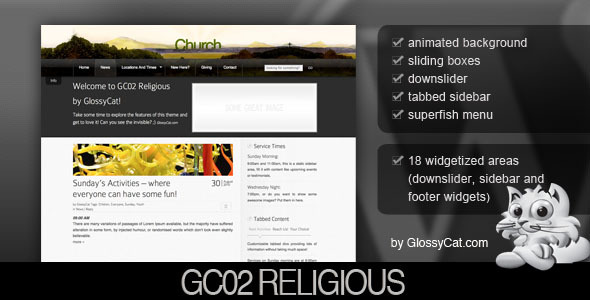 12. Light of Peace ($40)
This is a church theme WordPress Template. Some people use it for wedding and non-profit website. There are four color scheme included in this template. This wordpress theme also has an admin panel.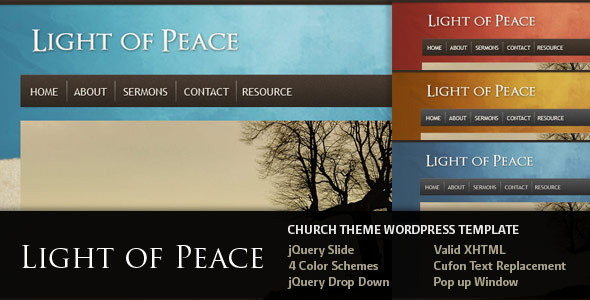 13. WordPress Church ($40)

14. Ezekiel Theme ($79)
The Ezekiel theme is perfect for Churches looking to have an interactive website powered by WordPress. It includes many church-specific functions including sermon podcasts, news, photo galleries, and events.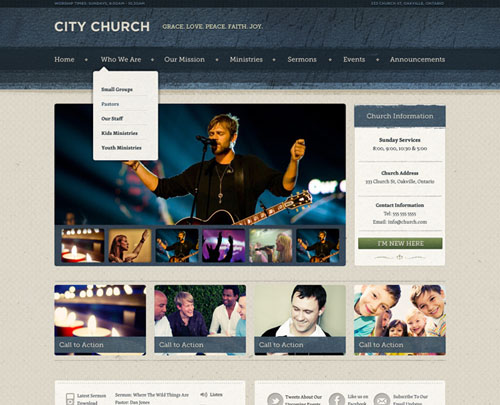 15. Moses ($79)
The Moses Theme features a classy home page with a large image slider. It comes with 5 different styles and is ready out-of-the-box for a church to begin using as a fully-functional WordPress website.
16. Malachi Theme ($79)
The Malachi Theme is a video-based theme designed specifically for churches who need a website rich in video and media content. It features high quality videos right on the home page in a slider that lets users cycle through featured videos and photos.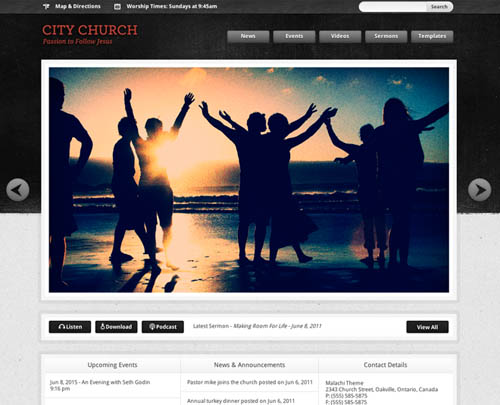 17. Micah Theme ($79)
Micah is a powerful WordPress theme designed for churches to use as their website with features crafted specifically for churches.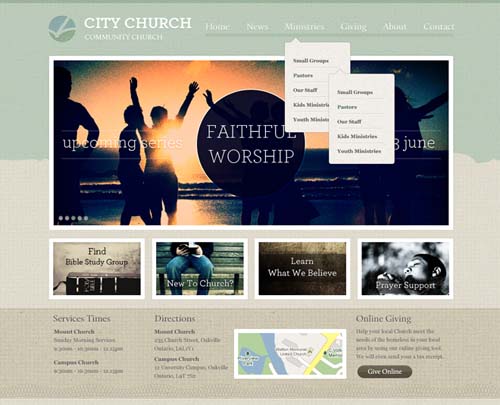 18. Mu Theme ($49)
The Mu theme has been designed with church applications very much in mind, but will have a much wider appeal too.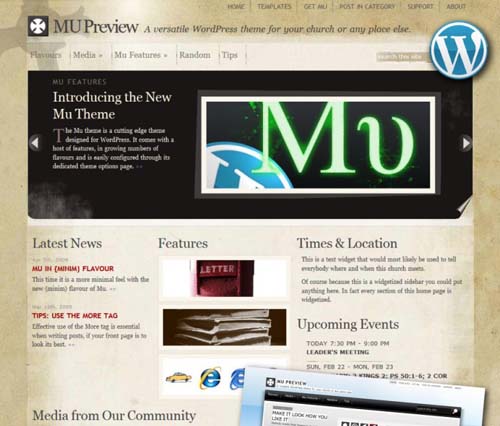 19. City Church ($80)
City Church is the only child theme you need for building church themed websites.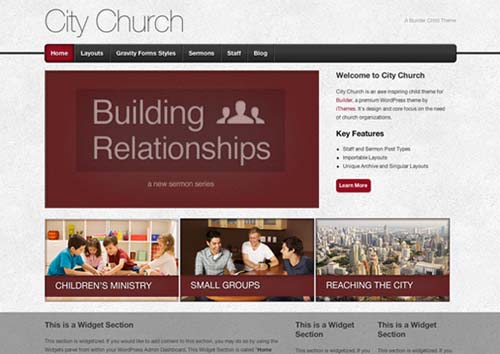 20. Epic ($45)
Epic is a WordPress theme that has been designed from the ground up with the needs of churches in mind.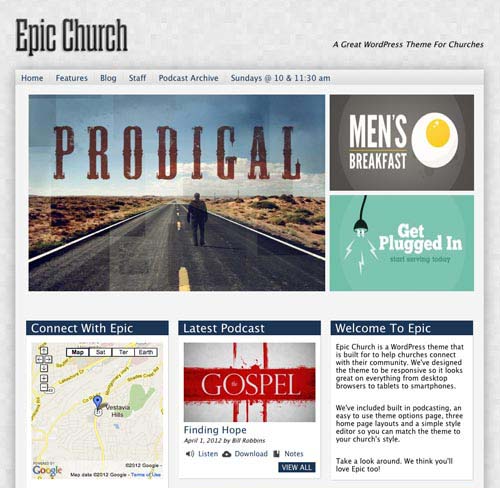 21. Authentic Church Theme ($45)
Authentic Church is a hand-crafted theme for WordPress designed to serve churches.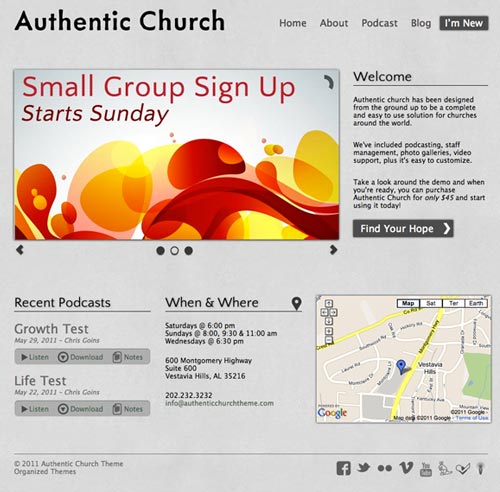 22. Sea Side Church ($45)
This theme includes a stylish contact page to show a map to your church along with your contact information/directions.