Setting up an online store has almost become invincible as most businesses as well as individuals are concentrating on selling products and services online. Well, if you are one such person or business planning to establish an ecommerce store, the foremost element you should be aware of is the platform that you plan to raise the ecommerce site. The entire performance and functionality of your ecommerce site relies heavily on the ecommerce store as it is the platform which is subjected to modifications whenever you bring in new changes to your website.
Well, given the significance of the platform, it becomes crucial to educate you with the best possible platforms available today. You have three unique and outstanding ecommerce platforms, all of them with astonishing features, to raise your website. But, which one to choose from the three? This is a tricky question and it requires a lot of research. To ease down your search process, I've come up with an interesting comparison of Joomla vs. Magento. I haven't included WordPress in this comparison as it is more related to CMS rather ecommerce. By this comparison, I haven't concluded which is the best platform of the two, but which one could better suit your business style and standards. So, let's jump into the discussion.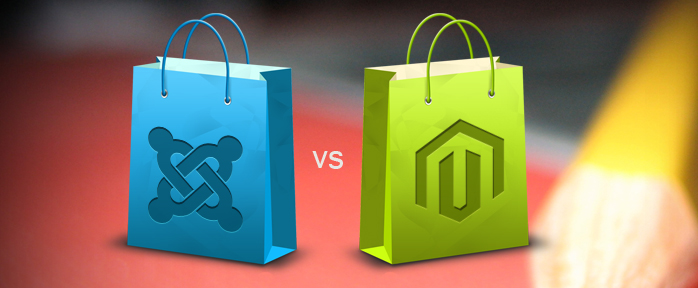 Joomla vs. Magento

History

Though it is off-topic, I thought adding this information about these two interesting platforms could help you realize them completely.
Magento: Introduced into the market at March 31, 2008. This ZEND framework raised platform is based on the entity-value-architecture data base model for data storage. Verien developed this robust platform. 100% Open source.
Joomla: Introduced into the market at August 17, 2005. This open-source platform is based on the model-view-controller. This is developed by Mambo Foundation. 100% Open source.
Cost
Cost plays a crucial role in the establishing a business website on any platform. I hope the following cost-related details could help you estimate the budget and go for the best platform. In fact, both these platforms completely free of cost and can be easily downloaded. But, you may be charged while upgrading the features for business furtherance.
Magento: It is proved to be a costly gimmick when you plan to add more features to the existing website.
Joomla: It is less expensive compared to Magento when it comes to adding additional features.
Ease of Use

Any great platform requires easy to use features and simple intuitive navigations to make it go places. Check out whether both these platforms are capable of producing it here.
Magento: Highly complicated. Set up and installation is bit difficult. And technical expertise is required even for minor modifications.
Joomla: Less complicated. Set up and installation is simple. For feature upgrades, you may need to require technical expertise. But it isn't that complicated like Magento.
Features

Well, features are highly essential as they are the attributes that add more feasibility to any businesses. Any website with rich features can easily improve its performance online.
Magento: Outstanding community forum, incredible social login options, user-friendly designing, highly security, etc.
Joomla: Excellent community forum, better social network options, user-friendly interface, relatively low security compared to Magento, etc.
Customization

Any website without customizing features can't perform greatly online. Because, each and every business website has its own requirements and options to customize could help them leverage their customers in a better way.
Magento: It requires pro efforts to customize the website developed using this platform. The programming is complex and it takes a great deal to analyze and make the changes.
Joomla: It is pretty easy to customize and it doesn't take too much efforts to customize your website developed using this platform. It's completely developer-friendly and anyone with a little technical expertise can achieve this with ease.
Extensions and themes

When it comes to enhancement of the ecommerce website, most often you may need to add some sparkling extensions or themes to them. In fact, both the platforms come out with scintillating themes and extensions which could be highly beneficial when implemented on your website. Both offer free as well as premium themes for improved website performance.
Magento: Some powerful extensions of this interesting platform include: Social Login, One Step Checkout, Ajax Cart, Facebook App, etc. And a few popular themes are noted to be: Fashion Stores, Gift Basket, Pinstore, Game Effect, Modern Furniture, etc.
Joomla: A few famed themes of Joomla include: Music, Momentum, Compassion, Elastica, CMS Blue, Camber, Puresite, Video Plus, Restaurant, etc. Popular extensions of this exciting platform comprises: HD Video Share, Social Login, JCE, K2, Warp 6, JEvents, Watchful, etc.
SEO-friendly nature

Well, apart from the brilliant extensions, performance, architecture, the platform you pick should have SEO-friendly attributes. Any website which is raised on platform without SEO friendliness could lead to pathetic results. Check out whether the two platforms discussed here incorporate this facility.
Magento: Intently created with SEO aspects to help improve your business performance on search engines result pages. In addition, it provides you with some extensions which can be added to make your website completely SEO friendly.
Joomla: Alike Magento, Joomla too is designed with SEO attributes. However, in case if you wish to add more SEO prospects or features to place your business website in better positions, it also provides you with options in the form of extensions.
Conclusion:
I hope the entire discussion over the top two platforms was quite helpful for your business needs. I've just provided an outline about these two interesting platforms and it's your choice to pick the best one based on the features, cost, architecture, security, etc. If you have any point to add, kindly input it as comments.