WordPress is most popular blog tool and publishing platform. Thousands of ordinary people, corporate, famous people, and creative people have chosen it as a platform for their websites and blogs. If you want to search perfect wordPress plugin for your classifieds website. You can go through this collection and find a theme which is best for you.
Here, we roundup 9 best wordpress classifieds plugin to start your craigslist clone website. Some of these plugins are available for free and others are paid.
---
See also:
---
Premium WordPress Classifieds Plugin
AWPCP is the #1 classified ads plugin for WordPress. It's fast and easy. 70,000+ downloads to date. Great support from our forum. Translate the plugin to your local language. Works with any theme.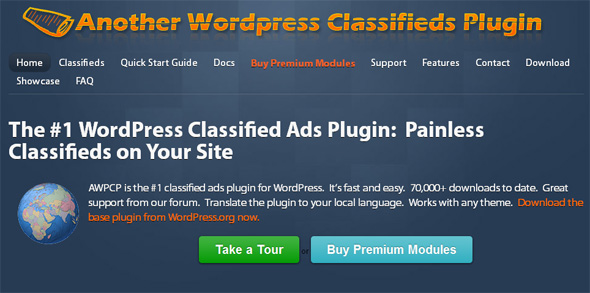 Add Classifieds to your blog, network or BuddyPress site. Create and manage ads, upload images, send emails, charge your users for placing ads on your network or BuddyPress site.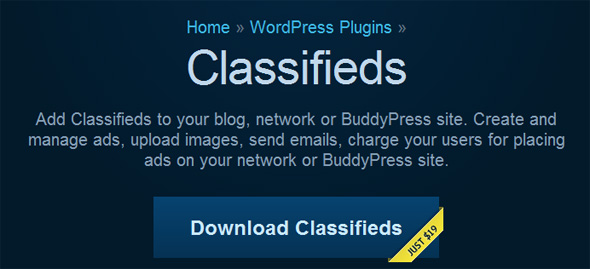 Roo Classifieds is the new kid on the block, a popular classified ads plugin for WordPress. Its feature-rich control panel and straightforward behaviour was built for ease-of-use and tight integration with WordPress. Roo Classifieds is using native custom post types and taxonomies.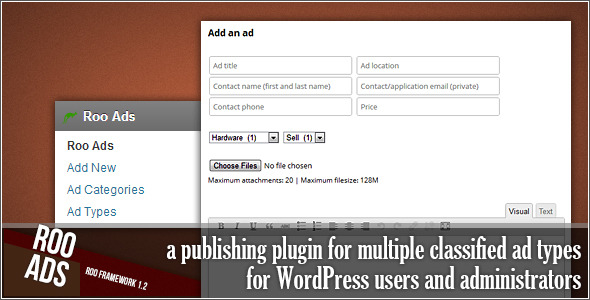 Sofa Front Post is WordPress plugin that will turn any WP theme into classified ads web site.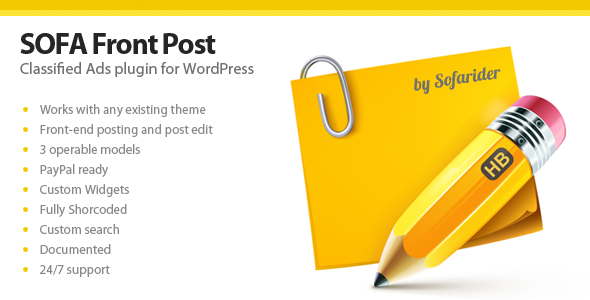 Free WordPress Classifieds Plugin
Great for increasing retention to your site, adding revenue for your business, and creating customer interaction.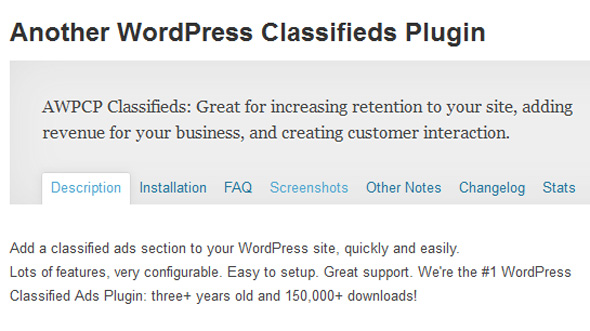 This plugin allows you to add a simple information & advertising blackboard or classified page in to your wordpress blog.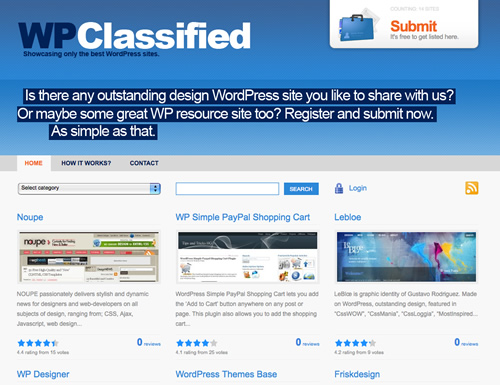 Your Classified Ads is a plugin that adds classified ads to your WordPress blog.

a classifieds system / directory listing that ties in seamlessly through use of WP native functions.

Business Directory Plugin allows you to build local directories, business provider listings, Yellow-Pages style business directories, Yelp-like review.